Updated 10:19 AM EST, Thu, Jan 27, 2011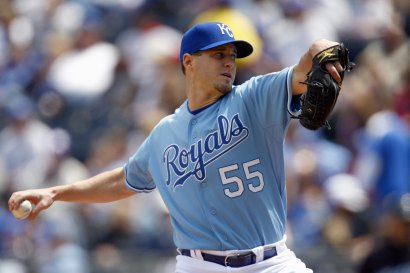 Getty Images
Okay, Gil Meche hasn't been great since signing a big contract with the Kansas City Royals. But not many players would feel so badly about their performance that they would walk away from a guaranteed $12 million.
Meche announced last week he will retire, giving up the payday due on the last year of his deal. Meche has always been known for his integrity, according to The New York Times, but this move left the baseball world stunned. Meche said he just didn't like the idea of not earning his keep.
"When I signed my contract, my main goal was to earn it," Meche told the paper from his temporary home in Lafayette, La. "Once I started to realize I wasn't earning my money, I felt bad. I was making a crazy amount of money for not even pitching. Honestly, I didn't feel like I deserved it. I didn't want to have those feelings again."
Meche made more than $50 million playing baseball, with most coming in the five-year, $55 million deal he signed with the Royals when he left Seattle in 2007.
"This isn't about being a hero — that's not even close to what it's about," Meche said. "It's just me getting back to a point in my life where I'm comfortable. Making that amount of money from a team that's already given me over $40 million for my life and for my kids, it just wasn't the right thing to do."
Meche, who is just 32, posted an 0-5 record last season with a 5.69 ERA. In his four years with the Royals, he won 29 games and lost 39.
He said he has no regrets and is now looking for a new home in the area where he grew up.
"I want to get back to what I remember as a kid, the way of life here in Louisiana," Meche said. "We tend to think we live a little differently down here. It's a lot of culture, a lot of French culture. Everywhere I've been in the country, for some reason, this is the place I can't get away from."
Print This Post
ROSEVILLE, Calif.—Residential and commercial real-estate owners aren't the only ones losing their properties to foreclosure. The past few years have seen a rapid acceleration in the number of churches losing their sanctuaries because they can't pay the mortgage.
Just as homeowners borrowed too much or built too big during boom times, many churches did the same and now are struggling as their congregations shrink and collections fall owing to rising unemployment and a weak economy.
Since 2008, nearly 200 religious facilities have been foreclosed on by banks, up from eight during the previous two years and virtually none in the decade before that, according to real-estate services firm CoStar Group, Inc. Analysts and bankers say hundreds of additional churches face financial struggles so severe they could face foreclosure or bankruptcy in the near future.
"Churches are the next wave in this economic crisis," says Rev. Jesse L. Jackson Sr., president and founder of the Rainbow PUSH Coalition, a non-profit civil-rights group, who works with pastors around the country to help churches negotiate better terms with their bankers.
Religious denominations of all kinds have suffered in recent years as donations have declined, with many Catholic parishes closing and synagogues merging their congregations. But the property-financing problems have been concentrated among independent churches, which while seeking to expand lack a governing body to serve as a backstop to financial hardship.
"Religious organizations may be subject to the laws of God but they are also subject to the laws of economics," said Chris Macke, senior real-estate strategist at CoStar. Many troubled churches, he said, are in states such as California, Florida, Georgia and Michigan, which also have some of the highest home-foreclosures rates in the country.
In many cases, churches ran into trouble after borrowing to build bigger houses of worship needed to accommodate growing congregations in once-booming housing markets.
Pastors Rich and Lindy Oliver decided their Family Christian Center needed more space after their congregation rose from a few hundred in the early 1990s to 650 by 2002. The church borrowed $4.2 million and began building a new 1,000-person sanctuary on 11 acres in Orangevale, Calif., including classrooms and a space for adult learning.
But when housing prices across California began tumbling in 2006, followed by a surge in unemployment and foreclosures, many congregants moved away, and those who were left reduced their tithing sharply. Meanwhile, the property, valued at $8.5 million in 2002 was appraised at just $2.5 million in 2008.
Stretched to the limit, the pastors stopped making payments. "I just told the bank to take it," Mr. Oliver said. "If you're a church with a piece of property upside down and no one will refinance the loan or lend you more money, there's not really another choice but to walk away."
Bankers and lenders typically are reluctant to "foreclose on God" and seek to work out deals with churches. But none proved possible in the Olivers' case.
These days, Mr. Oliver said his church, renamed The Family Church, was "doing what the rest of America is doing—we're cutting back and simplifying." In November, the Olivers raised $700,000—not nearly enough to rescue the previous church—from donations and personal loans from church members and used it to lease a former furniture store in a strip mall in Roseville, Calif.
Traditionally, lenders considered churches good risks because of the weekly cash flow generated by tithing, as well as the moral compulsion felt by most pastors to pay down debt.
Like many churches, Mr. Oliver used bond financing, not a straight mortgage, to fund construction. Historically, churches wanting to build turned to their governing bodies or to specialized lenders that originated fixed-rate 25-year to 30-year mortgages. During the real-estate boom,
But during the real-estate boom, regional and community banks attracted churches with lower rates on shorter-term loans. At the same time, some bond underwriters began offering churches more money up front if they issued so-called compound-interest bonds. In such cases, churches often paid nothing until the bonds came due years later, but then had to pay both the principal and accrued interest, which often doubled the amount they owed.
Many such bonds come due in the next few years. But with property values down and cash in short supply, many churches won't have the funds to payand will have trouble refinancing. "In 2011 and the next couple of years, we're going to see a big maturity wall hitting these churches," said Scott Rolfs, head of Wisconsin-based investment bank Ziegler and Co.'s Religion and Education practice.
Many churches have also been upended by plain mortgages. Vineyard Christian Fellowship in Sacramento took out a $1.9 million mortgage to acquire a $2.3 million 18,000-square-foot property in 2004 that included a church and two retail spaces. Johnny Zapara, the pastor, had refinanced his own home for $400,000 to make a down payment and expected to pay most of the $17,000 monthly payment with income from retail tenants.
When one of the tenants went out of business and a new one couldn't be found, Vineyard subsidized the payments for two years. Eventually the church ran out of money. and couldn't refinance because the value of the property had fallen sharply.The lender foreclosed earlier this month.
"A building does not make a church. We will find a way to continue," Mr. Zapara said.
Print This Post
During today's service, I started to think about the concept of God being the owner of everything. It reminded me of a post from a couple years ago...
Early in our marriage, I let my wife Wendy know that one of my dream goals would be to walk into a car dealership one day and pay cash. In 2004, we purchased a new Pontiac Vibe with, you guessed it, cash. Walking out of the showroom, Wendy asked me "How do you feel?" My honest answer was "Not as great as I thought I would."
You see, when I was 23 years old, it was all about me and what I wanted to accomplish. As I got older and set my focus on God, I realized that it was less about me and more about Him.

Matthew 23 (NIV)
10 Neither be called masters, for one is your master, the Christ.
11 But he who is greatest among you will be your servant.
12 Whoever exalts himself will be humbled, and whoever humbles himself will be exalted.
How can I claim credit for accomplishments when Christ is my master? Can I alone compare? When accomplishments do occur, I can and should be happy, I just need to give proper recognition to God that all gifts come from him. It is humbling in a good way to give credit where credit is due.
Print This Post
Via FoxNews
by: Greg Burke
Christians have been getting pushed out of the Middle East for some time now, but the attacks on them have recently become particularly ferocious.
It's enough to look at the bombing at a Coptic church in Alexandria, Egypt, on New Year's Day that left 23 dead, or the brutal siege on St. George Chaldean Church, a Catholic church in Baghdad that killed more than 50.
"If you look at the technical definition of what genocide is, it is the attempt to annihilate a particular group because of their ethnicity or their religion," says David Alton a Catholic member of Britain's House of Lords. "And certainly that is what is happening to many of the ancient churches of the Middle East."
Lord Alton, a prominent campaigner for religious freedom, told Fox News in an interview that radical Muslims target Christians as a way of hitting the West.
"They use Iraq as a staging post for that, and as a pretext for attacking groups they say are U.S. allies, and so Christians are in the firing line for that reason," Alton notes. "It is absurd in many respects, but it is a very convenient piece of shorthand for those who carry out the attacks."
John Pontifex of Aid to the Chuch in Need points out that the rise of radical Islam is putting extreme pressure on other religious groups, but especially Christians.
As the number of Christians falls drastically in the Middle East, Pontifex says, the radicals rejoice.
"Extremist groups have made it clear that because of this change in numbers, they are getting close to achieving their objective, which is the wipeout of Christianity in some of its oldest heartlands."
While Christians are hardest hit in the Mideast, that's not the only region they're feeling pressure, whether it be slighter forms of discrimination, or outright violence.
Pontifex estimates that there are 30 or more countries where Christians suffer "very severely," and that "in certain of those countries, that persecution is very endemic and very persistent and has as its objective an end to the Christian presence."
Pope Benedict's annual speech to diplomats last week focused on religious freedom as a fundamental human right, and mentioned the attacks in Iraq and Egypt.
Benedict also called for Pakistan to overturn its blasphemy law, saying it serves as a "pretext for acts of injustice and violence against religious minorities."
Egypt responded by recalling Aly Mekhemar Hamada, its ambassador to the Holy See to Cairo for consultations. Before leaving, Hamada gave an interview in which she said her government did not agree that Christians suffered discrimination in Egypt.
And in Pakistan, the response on the street was a not a friendly one, as protesters burned the Pope in effigy.
Print This Post
Via CNSNews.com
By Staff, Associated Press
Cairo - Iranian state television said Wednesday that leaders of the country's Christian minority have been arrested and accused of spreading a hard-line version of their faith.
The report did not give the number of people arrested. The group was promoting hard-line Christian views at cultural gatherings with the support of Britain, the TV reported, quoting Tehran Governor Morteza Tamadon. It did not elaborate.
Tamadon was quoted as calling the group "a corrupt and deviant current."
A website of Iran's political opposition reported that 60 Christians have been arrested since Christmas, including a priest taken into custody on Friday.
The Sahamnews.org website said the priest, Leonard Keshishian, was summoned by security authorities in the central city of Isfahan and arrested.
It gave no further details or a reason for the arrests.
Print This Post